Earlier this year, the Optimism Collective announced the third round of Retroactive Public Goods Funding (RetroPGF). As of today, applications for RetroPGF Round 3 are open! Round 3 will allocate 30 million OP to builders, artists, creators, and educators who have demonstrated their impact in building the Optimism Collective.
You can apply here through October 23rd.
Reach out in the #retropgf-discussion channel of the Optimism Discord with any questions.
The Optimism Collective is executing on the core values that brought us to crypto in the first place: creating a self-sustaining ecosystem, where rewards are redistributed to the people directly responsible for growing and scaling the technology and values that power it. We're accomplishing this by rewarding contributions to the greater good through Retroactive Public Goods Funding–the mechanism used to reward past demonstrable positive impact to the Optimism Collective.
As part of this RetroPGF application process, you'll create an Optimist Profile. This Profile will evolve to reflect your contributions to the Collective and can be used for future rounds of RetroPGF.
RetroPGF Funds Builders, Creators, Writers, Educators, and More
Every type of contributor to the Optimism ecosystem is eligible for RetroPGF.
Whether you're a developer working on an Ethereum execution client or an educator creating Optimism-inspired video content, if you're providing impact, you're eligible! RetroPGF is open to all Optimism artists, creators, writers, builders, and evangelists.
See the recipients of RetroPGF 2 to get a sense of what's been rewarded in the past.
If your work has made an impact in any of the four categories below, you should submit an application for RetroPGF.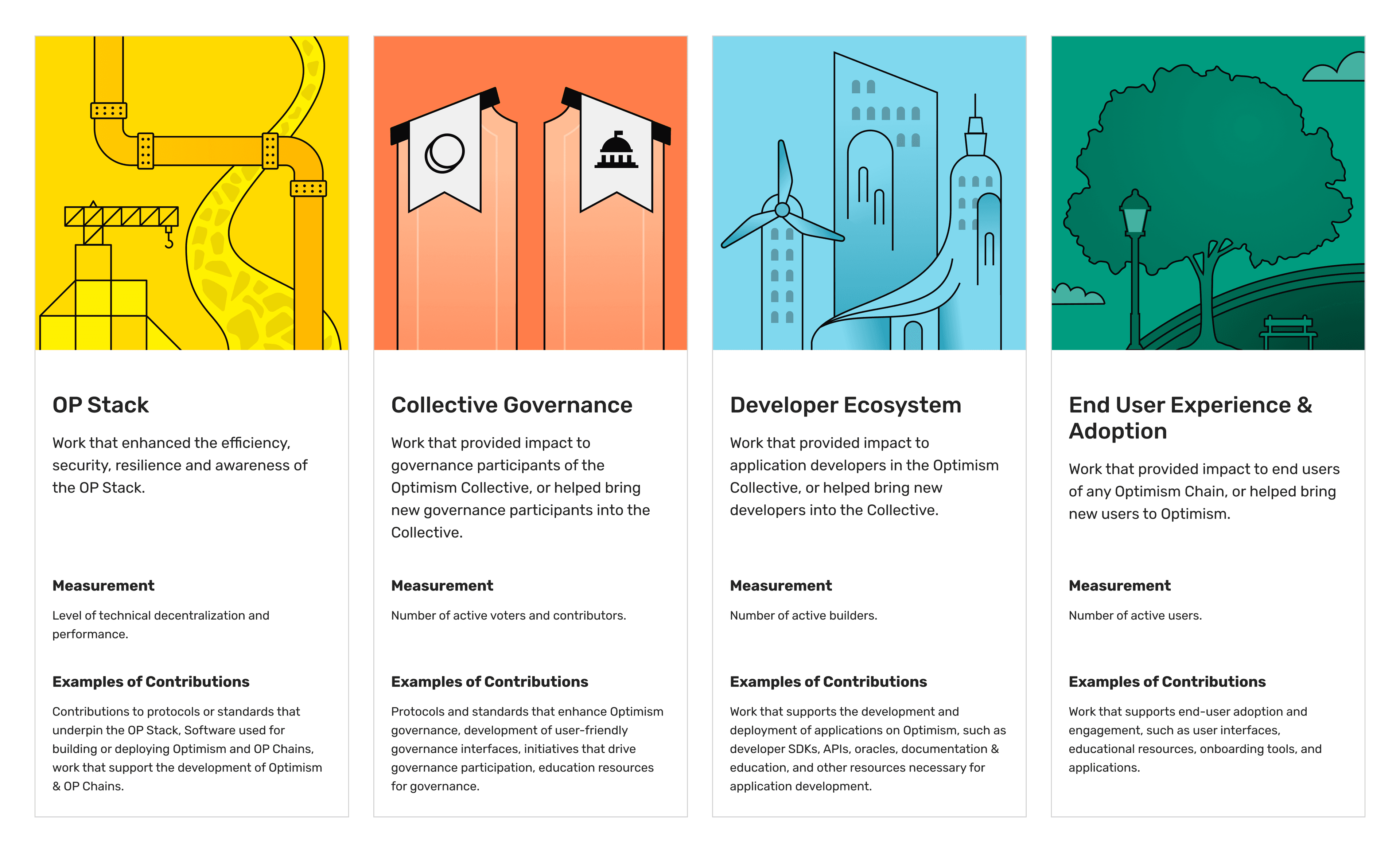 Build the change you want to see
The Optimism Collective is on a mission to save the soul of crypto. By incentivizing the creation of the public goods this decentralized technology relies upon, we can ensure it has a sustainable future. Change the incentives and you change the world.
RetroPGF is already having a huge impact in the ecosystem and changing the way people think about public goods. Here are a few testimonials from recipients of RetroPGF Round 2:
"With RetroPGF we now know our work is important and has an impact." - Nico Producto
"The impact of this RetroPGF round in Cryptoversidad was immense. If it wasn't for it, we wouldn't have been able to continue creating free educational content. We were able to keep building." - Diego Mares, Cryptoversidad
"RetroPGF provides the missing piece of open source software. Although maintainers aren't in it for the fame or fortune, retroactive funding builds confidence and staves burnout." - Davis Shaver
Show Your Impact
While any and all projects which supported the development and adoption of Optimism are encouraged to apply, there is no guarantee any given person or project will be chosen as a RetroPGF 3 recipient. That decision is ultimately up to the badgeholders of RetroPGF 3.
There are a few things you can do to make your RetroPGF 3 application as strong as possible:
Be articulate and comprehensive when describing your contributions.

Be specific when describing the impact you or your project created.

Provide metrics (both qualitative and quantitative) that demonstrate your impact (i.e. users, transactions, downloads, etc.).
See here for instructions on how to fill out your application.
Apply for RetroPGF 3
Apply now to be considered eligible to receive some of the 30M OP to be allocated for RetroPGF 3!
The application window will close on October 23rd.
Head to the #retropgf-discussion channel of the Optimism Discord if you have any questions and subscribe to the RetroPGF newsletter to stay in the loop.
To celebrate the opening of applications for RetroPGF 3 please enjoy this commemorative NFT available to mint for subscribers to the Optimism Mirror newsletter.